People's economy must be the basis of Indonesia's economic choices: the government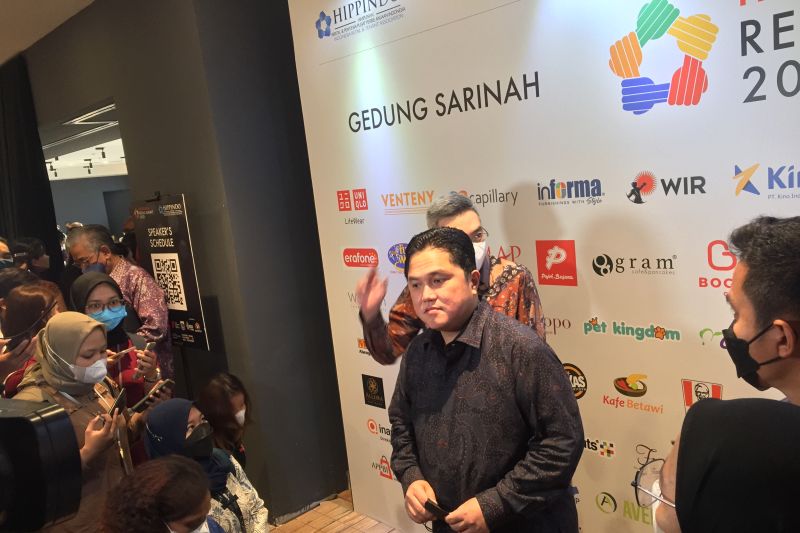 Jakarta (ANTARA) – Minister of State Enterprises (BUMN), Erick Thohir, has said people's economy must serve as the foundation for Indonesia's economic choices.
Although the economic system is open, Indonesia's founding fathers agreed that people's economy should be the basis of the national economy, he added.
"We are not against the big one. When I introspect the BUMNs which are seen as ivory towers and it is true, state enterprises actually become sharp nails that kill entrepreneurs. That is where that I unpacked how BUMN is to build a win-win ecosystem (beneficial for both parties) with private entrepreneurs, especially entrepreneurs from SMEs (small and medium-sized enterprises) and friendly countries, whether from Japan, China or Korea," he said at the Sarinah Building in Jakarta on Monday.
Therefore, the Minister said that since the beginning of the COVID-19 pandemic, he has continued to invite public enterprises and entrepreneurs to help micro, small and medium-sized enterprises (MSMEs) by providing financing, assistance and market access.
This is evidenced by the opening of 7.1 million employment opportunities in the villages through the Mekaar PNM (Building a Prosperous Family Economy) program to provide special services to disadvantaged women who wish to start or expand a business.
In fact, at the same time, many people in urban areas are returning home due to job loss, he said.
"The opening of 7.1 million jobs is due to the Mekaar PNM program implemented by women in the villages with only a loan of 1-4 million rupees, and the congestion rate is only 0 .13%. Can you imagine if in the urban areas they release workers, (and) in the villages there are no jobs? Where is the Indonesian economy going? He asked.
In another effort to strengthen the people's economy, the government is also pushing for an extension of economic restructuring until 2023 through the People's Business Credit (KUR) subsidy of up to 13%, KUR interest paid to debtors being fixed at 3%.
If a good business ecosystem is built, Indonesia can become the center of global economic growth, reaching an average economic growth of 5% per year in 2045.
"There is an improvement in the ecosystem that needs to be spawned by Hippindo (Indonesian Association of Retailers and Mall Tenants), Apindo (Indonesian Entrepreneurs Association) and others. We have to encourage big (businesses), but the foundation of the Indonesian economy, which is based on a people's economy, must be the foundation of the choice," he said.
Related news: Women play an important role in empowering MSMEs and cooperatives: Government
Related News: Central Government Should Prepare Domestic Trade Data: Governor Kamil