Indonesia takes steps to eradicate poverty and stunting: VP Amin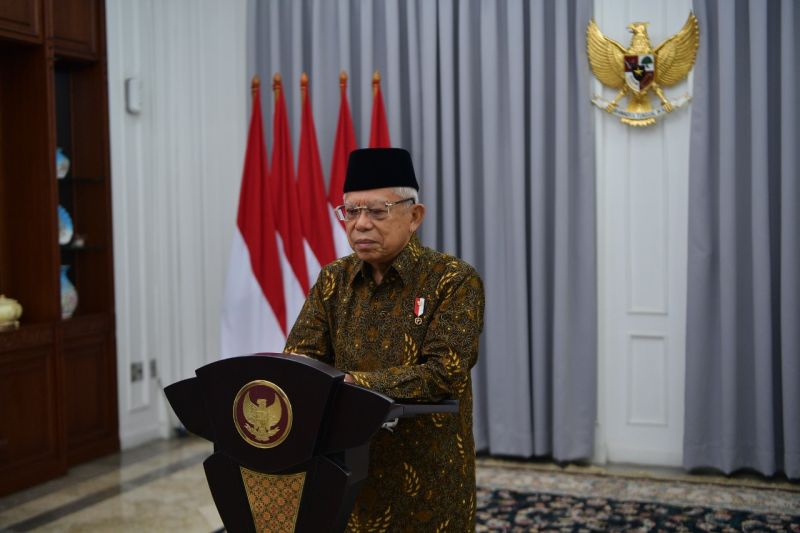 To eradicate poverty in all its forms, as elucidated by the first SDGs, the government will prioritize social protection and empowerment policies
Jakarta (ANTARA) – Vice President Ma'ruf Amin has reiterated the government's determination to eradicate extreme poverty and stunting to achieve the Sustainable Development Goals (SDGs) in Indonesia.
"To eradicate poverty in all its forms, as elucidated in the early SDGs, the government will prioritize social protection and empowerment policies," the Vice President said as he opened the Summit of Indonesian Companies on SDGs 2022 (ISCOS) organized by the Business Forum for CSR Development (CFCD) in Bali on Tuesday.
The government is making efforts to reduce the extreme poverty rate, currently recorded at 4%, to reach 0% by 2024, he noted.
Related News: Bappenas hosts competition to congratulate stakeholders supporting SDGs
"Integration, synergy and collaboration for inter-ministerial and institutional programs and activities as well as the participation of non-governmental actors are essential to achieve zero percent extreme poverty. However, we must also be aware of the accuracy of the beneficiary data from the program," Amin noted.
The vice president said the government was also working hard to achieve the second SDG – zero hunger and malnutrition – to achieve a stunting prevalence of 14% by 2024.
"Despite the success in reducing the stunting rate from 30.8% in 2018 to 24.4% in 2021, great challenges remain in our efforts to reach the 10.4% rate over the next two years. and a half," he explained.
Amin said that as the holder of the G20 presidency this year, Indonesia will use this medium to encourage global cooperation to recover together and recover stronger and sustainably.
The Vice President also encouraged stakeholders, from government, business, professionals, academics and researchers and residents, to collaborate to achieve the SDG target in Indonesia.
Related News: Independence Day Encourages Collaboration to Achieve 2030 SDGs
"The COVID-19 pandemic must become our common impetus to build solidarity in the face of a crisis," the vice president said.
Meanwhile, CFCD Chairman Thendri Supriatno said private companies must play their part in achieving the SDGs in Indonesia.
"We hope that with our collective actions, the ambitious Sustainable Development Goals, such as zero poverty by 2030, can be achieved," Supriatno remarked.
Related news: IDX supports the achievement of the SDGs
Related News: SAI20, G20 countries will cooperate to achieve the SDGs and global recovery