High-speed trains for Indonesia debut in Qingdao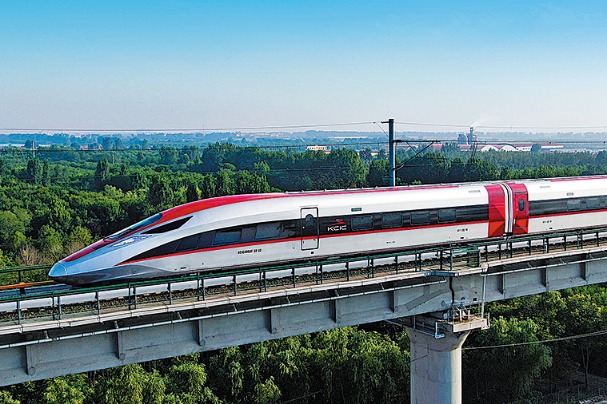 Bullet trains for the high-speed rail network linking Indonesia's capital Jakarta and the city of Bandung made their debut in eastern China on Friday, marking a milestone for the railway project, China Railway International said.
A total of 11 sets of high-speed trains and one inspection train, all adopting Chinese standards, were unveiled in Qingdao, Shandong Province, after a trial run on Thursday. They will soon be shipped to Indonesia.
According to China Railway International, a subsidiary of China State Railway Group, which oversees the project, the trains, which were designed and developed by CRRC Qingdao Sifang Co, Ltd, are based on advanced and mature Fuxing technologies made in China. high-speed trains that travel at a speed of 350 kilometers per hour. The CRRC has also made changes to suit the local environment and routes in Indonesia, and incorporated Indonesian cultural elements to provide passengers with a more comfortable travel experience.
According to the company, high-speed trains have enhanced functions and can offer quality services.
The trains are painted red and silver to represent flourishing dynamism. There is also a red polygon pattern to resemble the color and shape of the Komodo dragon, the world's largest lizard, which lives in Indonesia and is the country's national animal.
The interior of the trains is decorated in grey, red and blue, inspired by the Borobudur temple, the largest Buddhist temple in the world, as well as the Indonesian national flag and the ocean.
To adapt to local environmental requirements, the trains are equipped with smart detection technology and installed with earthquake monitoring and early warning systems, with more than 2,500 detection points throughout the train.
Each train, which can carry a maximum of 601 people, has eight cars, including a dining car, a first-class coach car and six second-class coach cars. Two of these trains can be linked together to operate when needed to carry more passengers.
For passengers with special needs, the train has a barrier-free area, with barrier-free seats and handrails, specially designed lavatories and Braille guidance panels.
The dining car has amenities such as a vending machine, coffee machine, refrigerator, microwave oven and dining tables to meet passengers' dining and leisure needs.
A test train, painted yellow, will carry out full inspections of the line, including track, contact network and communication signals. It will provide strong support for the safe operation of the line.
The 243 km line, a landmark project of China's proposed Belt and Road Initiative, began construction in 2018 and is expected to open to traffic next June.
With trains capable of reaching speeds of up to 350 km/h, the line will cut the journey between Jakarta and the capital of Indonesia's West Java province from more than three hours to 40 minutes.